JUHL Wind, Inc. (JUHL) Shares Soar On Solid Results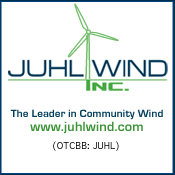 Shares of JUHL Wind, Inc. ( OTC:JUHL) are one of the notable penny stock gainers on Tuesday following the company reported its maiden profit in sin-month period since it went public.

This morning JUHL Wind reported its earnings for the last six months and said that revenue came at $7.5 million. Importantly, the company reported its first ever profit of $2.16 million ever since it traded on the stock exchange.

Operating income came at $3.77 million. It had a net loss of $ $156,000 during the second quarter.
On the per share basis, JUHL Wind earned 19 cents a share for the six-month period, compared to a loss of 7 cents a share in a year ago quarter.

Shares of JUHL Wind, Inc. (OTC:JUHL) gapped up this morning and started the trading at $0.95. JUHL Wind  stock moved up further and touched an intraday high of $1.04. Now, the stock is trading higher by 14.44% to $1.03 with more than 126K shares traded, compared to its average volume of 16.97K shares.

JUHL Wind Shares Climbing

Over the past one year, JUHL stock has been moving within a range of $0.70-$1.73. Over the past three-month, the stock has slumped over 20% after considering today's gain.

JUHL Wind stock is trading above its 50-Day Moving Average of $0.94 and it could face a resistance at $1.09, which is its 200-Day Moving Average

JUHL had total outstanding shares of 21.26 million, of which 4.68 million shares were floating with 81.365% shares, were held by Insiders. The company has a market capitalization of $22.59 million at the current market price.
Get JUHL WIND Updates from our FREE eMail list