Radient Pharmaceutical Corp. (AMEX:RPC)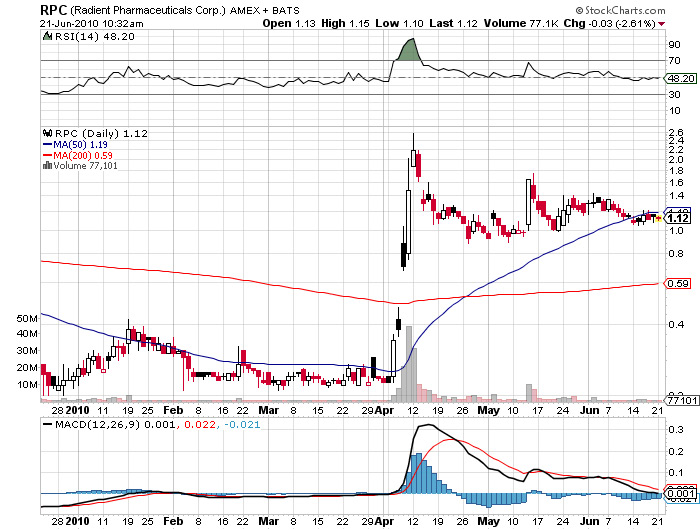 Contact Information :
Radient Pharmaceuticals Corporation
2492 Walnut Avenue
Suite 100
Tustin, Ca 92780-6953
United States
Phone:
Fax:
Website: http://www.radient-pharma.com

Business Description:

Radient Pharmaceuticals (AMEX: RPC) is a company that concentrates on the research and development of in vitro diagnostic (IVD) and high end skin care products. Radient Pharmaceutical is also involved in the sales and marketing of these products. The company's two core products are Onko-Sure and Elleuxe.

Industry/Comparable Companies:

American Oriental Bioengineering(NYSE:AOB) ; Tiens Biotech Group (AMEX:TBV)

Management :

David MacLellan – Executive Chairman & CEO
Akio Ariura – Chief Financial Officer & Chief Operation Officer
Andrea Small-Howard – VP, Research Development & Scientific Research
Christopher Gee – Director, International Sales and Marketing
Kristine Szarkowitz  – Director, Investor Relations
Ray Gatchalian _ Director, IT & Compliance

Analyst Consensus:

No Coverage

Technical Analysis:

Radient Pharmaceuticals (AMEX:RPC) is currently trading in between the 50 and 200 DMA's. The shares have pulled back, but still remain in a bullish uptrend.

Recent News:

Radient Pharmaceuticals Announces Latest Developments in Onko-Sure Commercialization Plan for India; Company's India Based Partner Driving Government Backed General Cancer Screening Program.

(June 14, Marketwire)

Radient Pharmaceuticals Announces New Interactive Website Dedicated to Company's Onko-Sure in Vitro Diagnostic Cancer Test.

(June 11, Marketwire)

Radient Pharmaceuticals and Perceptive Imagineering Announce Partnership to Accelerate Commercialization of Onko-Sure In Vitro Diagnostic Cancer Test

(June 2, Marketwire)

Potential Catalysts:

RPC is known as a momentum stock with speculative traders. Any type of multiple day rally could bring irrational buyers into this high beta stock.
RPC remains a favorite of short term traders, who offer large amounts of liquidity to microcap stocks.
RPC's Onko -Sure product is very cost effective and can be marketed to the masses.
RPC remains a short squeeze candidate due to unsubstantiated rumors of large naked short positions.
RPC's Onko-Sure product is attempting to gain a foothold into the major growth markets of Russia and India.
RPC's CIT patented technology also has potential to take advantage of India's growing economy pending it's approval.
RPC's product line is fairly diversified for a microcap stock.
CIT achieved favorable results in a pre-clinical study at the University of Alberta, Canada.
Increased global demand for anti-aging products could provide RPC a revenue stream from the Elleuxe product line.
The Elleuxe product line could benefit from the recent increased spending on anti-aging products by the 25-30 year old age group.

Potential Risks:

RPC, like all small biopharma companies could need to seek additional financing in the future.
Global market uncertainty could make it difficult for RPC to raise additional capital.
RPC can potentially be lumped in as a "one trick pony" biopharma despite having a somewhat diversified product line.
Earnings visibility on RPC remains uncertain.
RPC faces potential challenges in marketing and distributing it's product lines.
Report on SPNG
September 1, 2009:
Overview
Sponge Tech Delivery Systems Inc. (NASDAQ:SPNG.OB)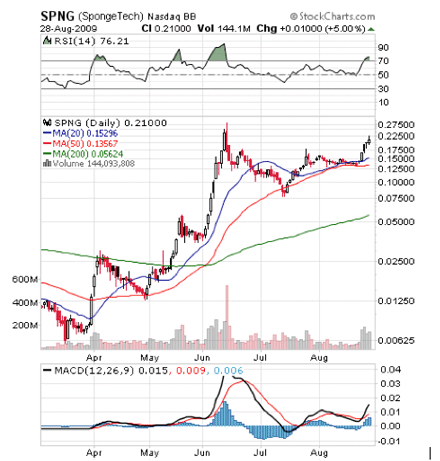 SpongeTech Delivery Systems, Inc. (SPNG.OB) designs, produces, and markets unique lines of reusable cleaning products for car care, child care, home care, and pet care usages. These sponge-like products utilize SpongeTech's proprietary, patent (and patent-pending) technologies, and other technologies involving hydrophilic (liquid absorbing) foam, polyurethane matrices, or other ingredients. The company's sponge-like products are pre-loaded with specially formulated ingredients, such as soap, conditioner, and/or wax that are released when the sponge is soaked and applied to a surface with minimal pressure. SpongeTech Delivery Systems is exploring additional applications for its technology in the health, beauty, and medical markets. It plans to globally brand its company as America's Cleaning Company. The company was founded in 1999 and is based in New York, New York.
Industry/Comparable Companies:
Ecolab Inc. (NYSE: ECL); Clorox Corporation (NYSE: CLX); Church & Dwight Co. Inc. (NYSE: CHD) and Stepan Company (NYSE: SCL).
Management
Michael L. Metter- Chief Executive Officer (CEO)
Steven Moskowitz- Chief Financial Officer (CFO)
Recent Highlights
The Company's gross revenue* for FY2009 ending May 31, 2009 exceeded $50 million, versus $5.633 million in FY2008, an 888% increase.
In FY2009, The Company had pre-tax profits of $10 million, up 834% from $1.2 million for FY2008.
New orders booked for the first 11 weeks of FY2010 (June 1 to August 15, 2009) were $55 million.
In 2009 The Company expanded its licensing agreements with Nickelodeon and Viacom to market the company's SpongeBob Square Pants soap filled bath sponges. The Company's national marketing campaign was launched in early August.
The Company acquired Dicon Technologies in 2009 for $4.5 million in cash, to further vertically integrate its research, development and manufacturing processes. The Company expects to fully exploit Dicon's massive distribution networks worldwide.
The Company recently signed agreements to partner with six NFL teams for the 2009-2010 season with several more signings expected prior to the season opener. The Company has also greatly expanded its MLB presence and is now featured in 28 major league ballparks.
The Company expanded its partnerships with the NHRA and NASCAR circuits, greatly increasing its visibility by signing a sponsorship deal with the Mike Ashley NHRA Race Team.
During FY2009 The Company expanded its presence to over 40,000 retail venues in the U.S. and Canada, up from 1,700 stores 12 months earlier.
The Company recently entered into an agreement with Wakefern Farms for merchandise placement in ShopRite, a retailer who serves over five million customers each week.
The Company has again signed with QVC to market Uncle Norman's Pet Sponge during QVC's Happy Hour. This ongoing program has the potential to reach up to 141 million consumers.

Financials
The Company reported revenue of $13.2 million for the third quarter ended February 28, 2009, a 900+% increase over revenues of $1.3 million reported for the same quarter last year. Net income for the third quarter (Q3) of 2009 was more than $1.5 million, compared to net income of $188,482 for the comparative 2008 quarter, reflecting exponential growth over the same period last year.
For the nine-month period ended February 28, 2009, the company reported revenues of $31 million, compared to $1.5 million for the comparative period of 2008. Gross profit for the nine-month period ended February 28, 2009 was $17.6 million compared to gross profit of $1.3 million for the comparative period of 2008. Net income for the nine-month period ended February 28, 2009, was $4.9 million compared to a net income of $197,150 for the comparative period of 2008.
As of February 28, 2009, the Company held cash/cash equivalents of $34,570 as compared to $19,387 at May 31, 2008. The Company's working capital at February 28, 2009, was $19.6MN as compared to $4.9MN working capital at May 31, 2008. The Company has no outside debt.
Analyst Consensus
No Coverage
Rating: HOLD
Investment Highlights
SpongeTech Delivery System Inc. designs, produces, markets and distributes cleaning products to the consumer through large retail chains. The Company's proprietary sponges contain hydrophilic foam polyurethane matrices and other technologies. The Company's products include auto care; child care; home care; pet care; health care, as well as beauty, kitchen, bath and medical cleaning products. It plans to globally brand its company as America's Cleaning Company.
Industry estimates for industrial and institutional cleaning chemicals is projected to increase 3.8% annually to $10BN by 2010. Increased spending reflects the growing popularity of multifunctional cleaning chemicals offering sanitation and other benefits as well as reduced labor costs for janitorial and other cleaning operations.
As of the third quarter (Q3) FY 2009, the Company continued to announce new orders and customers' addition. In May, the Company secured approximately $10 million in new orders. For the month of June the Company reported approximately $13.65 million of purchase orders. For the month of July the Company secured approximately $6.9 million in new orders, and most recently reported $13.5 million in new orders for the month of August '09.
The Company's products are in demand via various retail outlets throughout North America, including drugstores, supermarkets, membership warehouse clubs and big box stores. The Company's products are being distributed through such outlets as: CVS, Kroger, Ace Hardware, Bashas', Price Chopper Strauss Auto, Walgreens, Costco and other distributors.
In early August, the Company announced another initial purchase order from BJ Wholesale Club, but has as of yet to disclose the size of the order. The six-piece "Club Pack" will be offered at BJ's in Florida, Georgia and North Carolina later in August, with expectations of the "Club Pack" being offered nationwide following the initial order, according to its recent press release.
In July, the Company announced it has acquired Dicon Technologies for $4.45 million in cash. Dicon Technologies is a company that specializes in research and development of products derived from hydrophilic urethane chemistry. Dicon currently sells various products, including private label brands for multiple industries through established channels of distribution in the U.S., including traditional food, and mass market stores such as CVS, Walgreens, Kmart and Wal-Mart, as well as direct sales to large commercial clients, all of which the Company intends to immediately utilize. In addition to the U.S. distribution, Dicon currently has distribution in Asia.
Another announcement in July included a record month of new orders of approximately $23.5 million, compared with $18 million for June.
The Company's revenue growth has been explosive, increasing revenues more than 10-fold in the first quarter of 2009 from the fourth quarter of 2008. Advertising rose sharply as well, yet net profits still rose sharply from $188,482 to more than $1.5 million.
The Company's revenue growth is expected to continue through wide exposure via the world's largest retailers and its brand-awareness marketing and advertising campaigns, which include affiliations with major league sport franchises (i.e. NY Jets; Cleveland Browns etc.) in the United States.
Technical Analysis
SpongeTech Delivery Systems Inc. (OTCBB: SPNG.OB) shares trade above all of their rising moving averages with a RSI reading of 70 as well as a rising MACD which exudes strength in the stock.